FIG WORKING WEEK - 2012, 6-10 May 2012, ROME - ITALY
FIG Working Week 2012, 6-10 May 2012
Knowing to manage the territory, protect the environment, evaluate the cultural heritage
Call for paper – submit your abstract now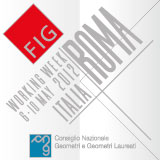 Dear Friend and Colleague,
Invitation to FIG Working Week 2012
It is our privilege and honour to invite you to the FIG Working Week 2012 in Rome, Italy to be held from 6 - 10 May 2012. The FIG Working Week will be preceded by the 1st FIG Young Surveyors Conference in Rome 4-5 May 2012.
The overall theme of the Working Week is "Knowing to Manage the Territory – Protect the Environment – Evaluate the Cultural Heritage". These three sub themes address the challenges of today and their relation to the cultural heritage that Italy and Rome are so famous of. Rome is a natural venue for discussing the past and future of the surveying profession and the global community. The theme implements the theme of the current FIG term of office: "Engaging the Challenge: Enhancing the Relevance".
The Working Week will bring surveyors and land professionals from all over the world together to meet while specific focus will be given to the Mediterranean region. The conference is organised jointly by FIG and Consiglio Nazionale Geometri e Geometri Laureati that is the biggest FIG member association with its well above 100,000 members. The main partner of the Working Week is UN FAO and other UN agencies supporting the conference. The organisers are expecting more than 1,200 participants to Rome in May from 100 countries.
The opening ceremony and three plenary sessions will address key issues of the surveying profession including latest development in surveying technology, land administration and land tenure, geospatial information, urbanisation and sustainable cities and their relations to cultural heritage and its maintenance.
Call for paper – peer review papers and non-peer review papers
The technical programme will include a broad professional and scientific programme with 8-9 slots each offering from 8 up to 10 parallel sessions and workshops. With flash presentations the programme offers more than 400 presentations in a three-day technical programme. The technical programme will offer specially invited high profile presentations and papers that are selected through the open call for papers procedure.
The Call for Papers is open for both peer review and non-peer review submissions. FIG Working Week 2012 will gather international practitioners and academics from all disciplines within the surveying, geospatial, natural and built environment professions (land surveying, land administration and management, land and real property appraisals, spatial sciences, spatial planning and development, positioning and measurement, engineering surveying, hydrography, environmental and green building and cost, construction and project management).
Invitation and full call for paper: http://www.fig.net/fig2012/fig_2012_call_for_papers.pdf
Important deadlines for papers: http://www.fig.net/fig2012/deadlines_papers.pdf
Submit your abstract: http://www.fig.net/abstractdb/submit.asp?id=14
WW 2012 web site: www.fig.net/fig2012
Peer review papers - Deadline for submission of abstract AND full paper: 1 November 2011
Non peer review papers - Deadline for submission of abstract: 15 December 2011
Young Surveyors Conference - FIG Foundation Young Surveyors Fellowship
The First Young Surveyors Conference will be held immediately prior to the main Working Week event on 4-5 May 2012
FIG Foundation has decided that there will be up to four (4) Fellowships available, to cover the participation of the Young Surveyors Conference and the Working Week.
More information and specifications of requirements: http://www.fig.net/ys/2012_fellowship.htm
Back to list >>
(с) Non-governmental non-for-profit organization "Center for Land Reform Policy in Ukraine", 2008. Views of aurhors of materials placed on this web-site do not necessarily reflect the views of the Center for Land Reform Policy in Ukraine. Use of any materials of which Center for Land Reform Policy in Ukraine is author and/or owner is allowed under condition of reference (for internet-based media - hyperlink) to Center for Land Reform Policy in Ukraine